Special Edition #5
Teresa Solar Abboud
Intramuros
Buy Now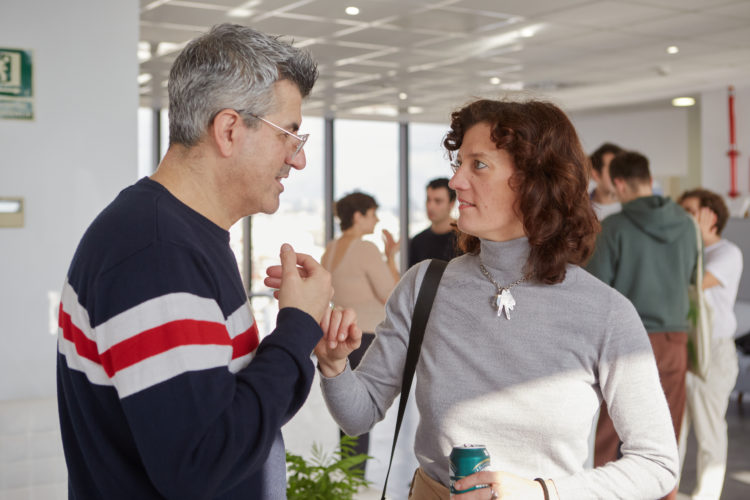 It is a limited edition developed by This is Jackalope's invited artist. Special editions have an annual periodicity and could be a photograph, a silkscreen, a sculpture, an engraving or any other medium that the artist chooses.
Intramuros is the work signed by Teresa Solar Abboud and produced by This is Jackalope for the year 2022
Teresa Solar Abboud. Intramuros, 2022
High-temperature clay, blue acrylic
31 x 28 x 16 cm
Edition of 20 + 1PA
Production: Alejandro Martín Calvo + García Casado + Estudio Teresa Solar Abboud
Teresa Solar's imaginary is based on the morphology of speech and, by extension, of thought. Concepts such as resistance, insulation, tightness and immunity are developed through a multidisciplinary production focused on sculpture and drawing and based on the creation of multi-layered narratives. Throat, pore, hatch, tongue, pipe, her pieces are populated with connotations of connectivity and flow. Hers is a practice full of words and full of organs that create words: a talkative work that doubts itself but nevertheless wants to talk.
In recent years, Solar has developed large-format installations in which families of sister sculptures vary in shape and size, creating complex ecosystems of thought. The reflection about the great stories of progress in contemporary society are opposed to micro-narratives that have to do with her own body: sports injuries, stuttering and daily transits through her city are a fundamental part of the expressive sphere of the creator.
All images courtesy of Muro Azul
[TIJ] In this piece, presented in an edition of This is Jackalope, you mix a natural material with an artificial one – in this instance, clay and acrylic. The mud is worked by hand, evoking organicity, while the laser-cut perspex breaks sharply with this sensation. This material hybridization refers to a practice that you have employed for some time, one that we can see in previous pieces such as the Tuneladoras, which you showed at the Venice Biennale this year, and in which you set up a contrast between clay and resin. What were you looking for when you started to produce these hybrid works? What was your starting point? How did they emerge?
[TSA] The Tuneladoras (tunnelling machines), and by extension this edition, one in a smaller format, mix two languages that have been with me over the years. On the one hand, there is mud; I understand it as undersoil myself. It is a terrestrial strata, a body of caverns, an insulating material, etc., it designates, in itself, an abstraction of the earth. On the other hand, clay is mixed with a type of representation that started off in my video art phase, a phase in which I was really interested in decoration and sets and the intermingling of both the worlds of video and sculpture. This led to exploring the outlook of museums, as well as the sculptures and figures  that we find in fairs, and all these interests could be seen as reflected in a project that already seems so long ago, but very important to me, called 'Cabalga, cabalga, cabalga' (Ride, ride, ride) in Matadero Madrid in 2018.
In this exhibition, I worked with the notion of decoration as sculpture. For me, the bodies, the extensions of resin that come out of the tunnelling machines, make a lot of sense in that they are in some way flat sculptures and/or volumetric decorations. They are set in a very interesting conceptual contrast between raw dirt, worked with in a brutal manner, and the perfect definition of these other elements born out of the idea of decoration.What interests me is how these abstract bodies come out of these perfectly precise and defined elements.
[TIJ] Delving into your notebooks is a fascinating experience in which we are confronted with a deluge of sketches, cutouts and writings. It's as if we are in the lair of your creative process, a rhizomatic labyrinth in which curiosity, the exuberant and continuous search  sit side by side with rigorous and attentive study. What relationship do you have with these notebooks?
[TSA] For me, the notebooks are a very important workspace. In them, I cultivate any interests that I have in that moment, interests that are expressed in many different ways, from drawings and texts to photographs and cutouts. It is a nurturing process that I have fun with and, at the same time, has a lot of importance because, for the last ten years, I have been conscious that I forget a lot of stuff. Forgetting ideas has always been something that worries me. It is for that reason I work with notebooks with such passion and dedication. The notebooks allow me to return to ideas from, say, over the last ten years, and that is something that happens very often. The ideas solidify themselves, memories are compacted, and this creates a fertile ground that interests me a lot. In reality, this is the everyday task of creative activity. It's not so much flashes of genius, but rather unpicking all those little threads that come from the compression.
[TIJ] In your work, there is a constant exploration of the latent and the hidden. It occurs through a playful and rigorous conversation between reflection (drawing guided by curiosity) and the physical experience of the body (mud, ceramics, fingers ). We could describe it as thinking things through with one's thumbs that activates the power of the imagination on a journey through the tunnels, caverns and hidden nooks and crannies that surround us all. What has the creative process for this piece been like?
[TSA] It's been a lovely process, as well as a playful and fun one. The fact that it's an edition means everything is tinged with less solemnity, which allows for a work that is also more humorous, comedic and fun. Also, this piece is special to me because its design comes from one of the first drawings of the tunnelling machines, which we have shown at the Venice Biennale, and that have become a very important part of my work. It pleases me a lot that this small piece pays respect to those first tentative drawings that I sketched when trying to communicate the two materials we were talking about earlier. This sculpture is based on very quick ideas and drawings that then underwent a decantation process in the studio. Above all in this work is thought about matter; that matter has its own agency. Clay has its own gravity, it falls under its own weight, its own folds. And in this piece, we can also see this work's gravity gathered in its own matter.